A couple of weeks ago, four-year-old Izzi walked into the Fruita library with flutterings in her stomach and her father by her side.  It was a special day; she was the lucky winner of a grand prize!  All summer long Izzi and her parents read together, they logged the hours, and now Izzi was at the library to pick up her new Kid's Kindle Fire HD6.
Andrea, the library assistant, smiled and handed Izzi a bright red box.  Her father thanked the Library for hosting Summer Reading and for Izzi's prize, and Andrea thanked them for participating.  After Andrea took her photo, Izzi and her dad slid the tablet out of the box.  Izzi kicked her legs in excitement under the table, as she pressed the power button and the screen lit up.  A few minutes later, Giselle, the branch manager, congratulated Izzi, as she was leaving.  Izzi was already playing a game on her new tablet.
Izzi is just one of the many kids who read during the summer and recently won a grand prize.  Kamryn won the other big grand prize – a $400 gift certificate at Bicycle Outfitters.  She was thrilled and couldn't wait to pick out her new bike!
Several other kids won smaller grand prizes.  After reading or being read to for 12 hours, about 840 kids were eligible to get their names drawn and receive a prize.  Below are the names of the other grand prizes winners, along with a few of the kids' pictures.  They received an outdoor game, Grand Junction Rockies tickets, or a signed baseball by the GJ Rockies players, and all winners have been notified.
Baseball Winners:  
Aaron R.
Abigail H.
Alayna M.
Bennett B.
Deklan L.
Elliot
Faith
Hayden L.
Jax
Katie
Kaytan
Leopoldo C.
Lily R.
Lexie
Mallory
Noe M.
Oliver B.
Samuel B.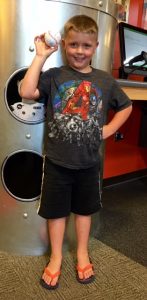 GJ Rockies Tickets Winners:
Alex M.
Allie B.
Antonio U.
Dylan F.
Gabe K.
Holden L.
Holly H.
Lia B.
Mallory
Matthew
Michael W.
Parker F.
Spencer G.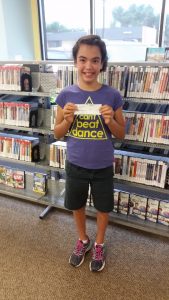 Outdoor Game Winners:
James
Kallista
Marli M.
Riley D.
Simeon F.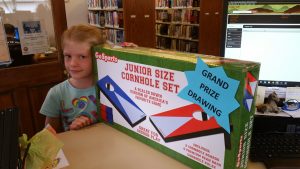 Congratulations to all the grand prize winners and to everyone who participated in Summer Reading! Way to go!
Also, did you know that every summer there is a reading competition for our local elementary schools?  When school-age children participate in Summer Reading at the Library, not only are they reading for their own pleasure and learning, but they are also adding hours to their schools' total reading hours.  The school with the most reading hours this summer was Caprock Academy.  Caprock has won three years in a row, and will be receiving a cool trophy. Congratulations to them!