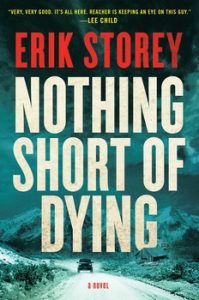 Join us for Erik Storey's book launch at the Central library on Wednesday, August 17th 6:30 p.m.  Erik will talk about his book, read a short passage, answer questions and be available to sign books as well. Hailed by bestselling writer William Kent Krueger as "the year's best thriller debut," this furiously paced ride into harm's way features a drifter with lethal skills, whose mission to rescue his abducted sister pits him against a ruthless meth kingpin and his army of killers. (From Simon & Schuster.)
Erik Storey is a former ranch hand, wilderness guide, dogsled musher, and hunter. He spent his childhood summers on his great-grandfather's homestead in the remote Colorado Flat Tops wilderness. He has earned a number of sharpshooter and marksman qualifications. "Nothing Short of Dying" is his first novel.
This program is in partnership with Out West Books and Western Colorado Writers Forum. Books will be available for purchase from Out West Books.