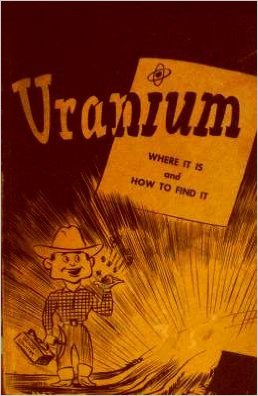 Paul Dean Proctor's book Uranium: Where It Is and How to Find it was published in 1954. During this time a uranium mining boom was taking place in the western United States and Mesa County was a hub for that industry. Several uranium mills operated in our region and the Atomic Energy Commission was headquartered in Grand Junction. Hundreds of uranium mines were located in western Colorado and eastern Utah.
Proctor (1918-1999) was an expert in the field of uranium prospecting and he was well-suited to write a book on how to find the highly valuable ore. The book starts by using the example of Charlie Steen, the prospector and eventual millionaire who had discovered rich uranium deposits near Moab, UT. Steen's life story undoubtedly would have inspired many individuals to prospect in the most remote, dusty, and unforgiving terrain in our region.
The book is only 84 pages long but it contains a wealth of information on identifying uranium and other commonly found deposits. Several charts and maps provide details on where to prospect and in what specific geological layers to focus. A reader who only has a general awareness of mineral prospecting would find as much information as he/she would need to get started. The author details each step in the process: identifying areas with substantial ore quantities, determining the grade, registering a mining claim, and preparing the area to be mined.
The title stands out as far as books on local history goes. It's content is very unique and it is very relevant to the not-so-distant and important history of western Colorado.