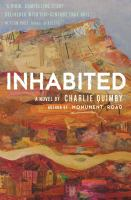 In Charlie Quimby's follow-up to his debut novel Monument Road, he returns to his native western Colorado and the city of Grand Junction, a town built at the confluence of the Colorado and Gunnison rivers. And it is at the river where Quimby's story begins.
The river banks, covered in the invasive tamarisk, have become ideal thickets for concealing homeless encampments. When realtor Meg Mogrin joins the Homeless Coalition, she considers it just another civic duty, but when she accompanies the Grand Junction Police Department homeless outreach team to the river, she comes face to face with the darker fringes of the town. The poverty, alcoholism, drug abuse, trash, and loose dogs are all abysmal living conditions that will never be included in her chirpy life style real estate column on tasteful consumption. When another encampment on an island in the river is burned out, the local newspaper calls it a brush fire with no mention of the displaced. Meg is powerfully drawn in to this ever-growing issue. She encounters a developer who flies in on his corporate jet to promise jobs and economic revival. She discovers the homeless are individuals with past lives, with families, with basic needs. She finds some community figures favor developers' money over potential for solutions. There are no easy answers and many roadblocks to success.
Meanwhile Meg wrestles with a dark secret tied to her sister's death twenty years earlier when she was murdered at Cold Shivers Point, a harrowing and vertical drop in the Colorado National Monument.
Using familiar characters from Monument Road, Quimby casts a novelist's keen eye on a portion of our society who live without secure and safe shelter. His compassion and insight into his characters make the story irresistible. The landscape is familiar to local readers. Inhabited is an involving and worthwhile read.