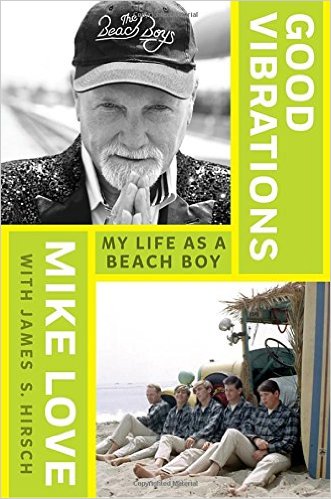 So much has been written about the Beach Boys during their extraordinary fifty-five year history, but Mike Love as the group's front man and principal lyricist has the inside scoop on the history of the legendary American band with his new book Good Vibrations: My Life as a Beach Boy.
Their origins were middle class; their families benefited from the booming post-war economy of southern California. Mike Love was destined to work in his family's successful sheet metal shop. His cousins, the three Wilson brothers Brian, Dennis, and Carl, lived nearby. When the group began with minor successes, the Wilsons' father, Murray, a blue-collar worker, took charge, ruling the group with an iron fist with little basic knowledge of the music business. Uncle Murray would later sell them out for $700,000, with all the proceeds coming to him. He got away with this no doubt because most of the time, the boys were immersed in writing their music, recording albums, touring, getting married multiple times, and taking drugs. More financial debacles followed. No one was paying attention to such details as record company contracts or copyright registration on song writing collaborations.
Sadly, Brian, the true musical genius of the group, suffered brain damaged from drug use. Brian's brother Dennis, also heavily into drugs, had an encounter with Charles Manson, the cult leader whose followers carried out several notorious murders in the late 1960s. Love recounts the group's struggles to stay at the top of the charts, and even though they produced experimental albums like Pet Sounds unlike their popular surf, sun, and young love albums, British groups like the Beatles and the Rolling Stones gained on them in popularity. The music scene was changing with musicians and groups like Jimi Hendrix, Janis Joplin, The Doors, and other psychedelic-driven groups performing anti-war songs, save-the-earth songs, and protest songs against the government's unpopular war in Vietnam.
Still by virtue of foreign touring, they continued to draw huge crowds and to this day remain one of the most popular American bands in history. Treat yourself to the CD audio version of this book, narrated by Mike Love himself.