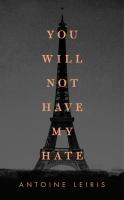 Having just finished You Will Not Have My Hate, by Antoine Leiris, I am shattered. His writing is beautiful; not just the words and the journey he creates with them, but the raw emotions of someone dealing with an unthinkable tragedy.
The author was at home with his 17 month-old boy, Melvil, in November 2015 when he heard about the terrorist attack at the Bataclan Theater in Paris, where his wife Hélène had gone for an evening out with a friend. He is frantic to reach her, but all of his attempts fail. When news finally reaches him, his world is irrevocably changed.
He starts writing "to get the words out" and what we read is as devastating as it is unbelievable. In a letter he directs to those responsible for the attack, Antoine outlines his loss but chooses to withhold his hate and instead breathe Hélène's love into the two of them who remain. "She is with us. There are three of us. There will always be three of us." You Will Not Have My Hate is a heartfelt testament to the power of love.