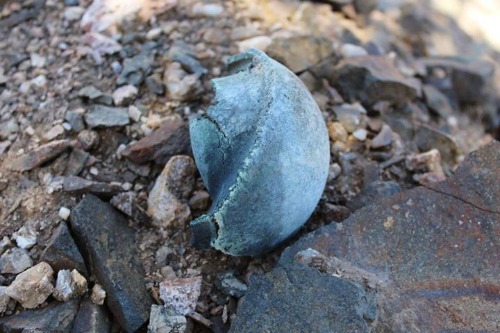 In the 1890's there were several copper mines operating in southwestern Colorado. Some of the abandoned mines are located within easy driving distance from Grand Junction. The Last Chance Mine was one of those sites. The operation was an example of hard rock mining, which is the process of extracting hard minerals like copper, zinc, lead, gold, and tin.
On March 23, 1898 the Daily Sentinel reported that two young capitalists, Norman Cameron and J.E. Clark, had traveled to Grand Junction from Denver. The two men were highly interested in opening a copper mine in the area that would become the Last Chance Mine. A recent study of the minerals in the area determined that copper made up an exceptionally high percentage of the underground minerals. The assayer also concluded that profits could be made from mining gold and silver.
The plan was to drill a shaft of close to 400 feet into the solid rock to find the rich vein of copper ore. The mine would eventually connect with a tunnel that went 700 feet into the granite.
Cameron and Clark planned to hire men as soon as possible to start the work. The mineral resources were quite rich and it seemed that the potential for profit was very high.
Nowadays two mine shafts are present as well as the ruins of a few buildings, several pieces of equipment, and visible remains of the access road that allowed for transportation of supplies and the minerals. The location of the mine and the conditions that the miners worked in is a testament to the investment of money and hard work that occurred over 115 years ago.