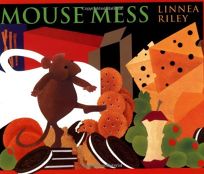 From April 17 through May 1, every 4-year-old child in Mesa County can pick up a free copy of "Mouse Mess" by Linnea Riley as part of the annual One Book 4 Colorado program.
Copies of the book are available at all Mesa County Libraries locations in downtown Grand Junction, Clifton, Collbran, De Beque, Fruita, Gateway, Orchard Mesa, and Palisade. Simply stop by and pick one up!
"Mouse Mess" is the entertaining story of a little mouse's kitchen adventure one night when nobody else is around. Copies of the book are available in English or Spanish to all 4-year-olds in Colorado, and the books are theirs to keep at no charge.
Picking up a copy of "Mouse Mess" gives families a great opportunity to read together. Family members are children's first and most important teachers, and the purpose of the One Book 4 Colorado program is to encourage early literacy skills. There is no better way to instill a love of reading in children than for family members to read with them.
This year, One Book for Colorado will provide 75,000 books to 4-year-olds statewide to encourage families to read together.
In its sixth year, One Book 4 Colorado is a statewide collaboration between Lt. Governor Donna Lynne's office, Serve Colorado, the Colorado Office of Early Literacy, the Colorado State Library, the Colorado Department of Education, the Denver Preschool Program, public and military libraries statewide, the private sector, and the nonprofit and foundation communities.
Read a review of "Mouse Mess" here.