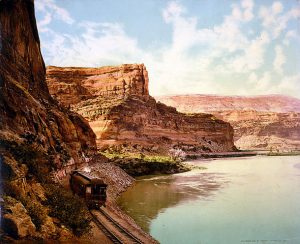 Isn't she a beaut?  Colorado River Day is recognized each year on July 25th.  It was on this day in 1921 that Congress re-named the river from the "Grand" to the "Colorado." 96 years later, the river flows 1,450 miles from Colorado to California.  In and around her waters you can experience many recreational delights including rafting, kayaking, stand up paddle boarding, hiking, fishing, or simply dipping your toes in and admiring the gorgeous views.  If you're a nature geek like me, you probably feel just as tickled to have this iconic landmark running right through Mesa County's backyard, supplying grand scenery and outdoor tourism opportunities.
Like many natural resources, this hardworking source of water has a vibrant history and unique stories all of its own.  If you're interested in reading more about the back story of the Colorado River, or would like to learn about the river recreational scene, check out these titles available in Mesa County Library's catalog:
River Notes: A Natural and Human History of the Colorado
River: One Man's Journey Down the Colorado, Source to Sea
Fly Fishing the Colorado River: An Angler's Guide
A River No More: The Colorado River and the West
Paddling Colorado: A Guide to the State's Best Paddling Routes
You can also visit the Central Library's Raleigh History Room to find articles, photos, and geographical information including topography maps.
Take a minute this week to enjoy and pay homage to the mighty Colorado!