C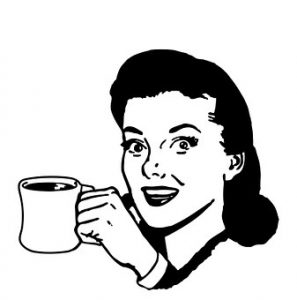 offee: it's the first thing I think of when I wake up.  The ritual begins as I groggily slump towards the kitchen with eyes half open, heading directly towards the stove top to begin boiling water.  I move on to pour beans out of the bag with a gentle urgency, always adding a little more than necessary to the grinder.  I call my coffee "diesel fuel," a concoction of thick potency that only the bravest of coffee-friendly taste buds can agree with.  When it is finally ready for that first sip, all feels right with the world.  Thought and reason, once fuzzy and clouded by sleep, come sharply into focus.  Coffee is a liquid revival of the senses.
According to the National Coffee Association, the discovery of coffee can be traced back to before the 15th century on the Ethiopian Plateau.  It was here that a farmer witnessed his herd of goats frolicking energetically after eating the berries off a certain tree.  Monks in the region tested the coffee berries in liquid form, and discovered it helped keep them noticeably alert and awake.  News of this joyous drink spread around the world like a hyper wildfire, breathing vivacity into standard daily routines.
If you feel the same affection for coffee as I do, it might interest you to read more about the world's most popular morning beverage.  In Mesa County Libraries' catalog, we have several titles focusing on the history, uses, cultivation, recipes, and health benefits of our beloved coffee. Titles include:
Coffee and Coffeehouses: the Origins of a Social Beverage in the Medieval Near East
Coffee is Good for You: From Vitamin C and Organic Foods to Low-Carb and Detox Diets, the Truth about Diet and Nutrition Claims
Coffee Gives Me Superpowers: an Illustrated Book About the Most Awesome Beverage on Earth 
The Blue Bottle Craft of Coffee: Growing, Roasting, and Drinking, with Recipes
Go forth, with energy and vigor.  I raise my mug to you!
Image: https://pixabay.com/en/woman-coffee-mug-coffee-mug-902214/