Can I tell you something? Do you promise not to tell anyone else? Can you keep a secret? Have you ever been in this situation before wondering if someone is going to use, steal, or tell someone else your great ideas? If so then you may want to consider having your own nondisclosure agreement.
According to Rocketlawyer.com a Nondisclosure Agreement "takes the notion of keeping a secret even further. This contract creates a legal obligation to privacy and compels those who agree to keep any specified information top-secret or secured."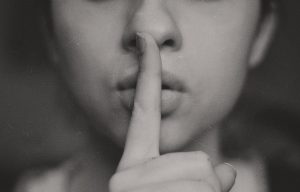 A Nondisclosure Agreement (NDA) is used when you want to protect your intellectual property such as trade secrets, designs, formulas, and business ideas and concepts. You would use an NDA if you want to disclose information that you would not want anyone else using or stealing.
There are two main types of NDAs: Unilateral and Mutual–although Wikipedia defines three different types.
Unilateral NDAs are a one-way street. This kind of NDA involves two parties where one party is disclosing information to the other. The agreement is for the receiving party to keep the information confidential. These may also be called non-mutual NDAs.
Bilateral NDAs are a two-way street where information is being shared by both parties and both parties are agreeing to keep the disclosed information confidential. These are also known as mutual NDAs.
The last type of NDA that Wikipedia defines is called Multilateral. I guess you could consider this a traffic circle where many different roads are converging. This kind of NDA is used when there are more than just two people entering into an agreement.
Findalaw.com also has some great information about what a NDA is but they also offer a free review of your own NDA. It is suggested that you have a lawyer to review your NDA to make sure that it is a legally binding document.
Fortunately for you, though, there is a great free public service that can help you be on your way with your own NDA. That's right, I am talking about the Mesa County Libraries—more specifically, our Legal Forms link (you will need your library card) found on our eResources page. Once you are on the Legal Forms site do title search for "NonDisclosure" and a list of NDAs will show up. You can choose which works best for your needs from there. The most general NDA is the first one at the top of the list. As your get further down they become more specific. You can use this form if you do not want to create one or you can use it as a template for developing your own.
If there is a business topic you would like to know more about please contact John at Factory@mcpld.org