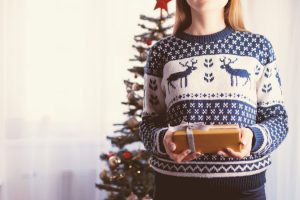 The holiday season is upon us.  It's the time for random relatives to come out of the woodworks, sugar intake to go up, belt notches to be loosened, and shiny, bright decor to radiate light from all angles.  Are you feeling slightly lackluster or in need of some new ideas to spice up your season? If so, head over to Universal Class located under the Mesa County Libraries' E-Resources page.  Universal Class is an online educational service offering free online tutorials and classes formulated by dedicated instructors on a wide variety of subjects.  The classes uphold the "knowledge is power" approach by offering videos, lesson plans, and graded assessments of assignments and exams.  An added bonus is learning at your own pace – all courses can be finished whenever you have time.  To join Universal Class, make sure you have an up-to-date library card with Mesa County Libraries then register on the Universal Class website.
On a budget? Learn how to make your own bath oils, lotions, or potpourris for gifts with the Aromatherapy 101 class.  Other great do-it-yourself gift ideas could come from classes such as:
Candle Making 101
Western Calligraphy 101
Soap Making 101
Want to impress your in-laws with your newfound cooking skills? Emerge from the kitchen with that smug, "Oh, all this food? Barely broke a sweat!" face after taking the following classes:
Bread Baking 101
Cooking and Baking 101
Baking Cookies 101
After the holidays are over, the sugar is still coursing through your veins and mentally you may feel as if you have been tied up and dragged from the back of a sleigh.  The following classes are available to help ease you back into a sense of peace and calm:
Stress Management
Meditation 101: Learn how to Meditate
Yoga 101
Simply type any of the aforementioned topics into the "I Want to Learn" search box on Universal Class's homepage.  Have a productive and stress free holiday season!
Image: www.pexels.com