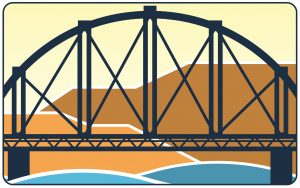 Mesa County residents can now find an oral history interview of U.S. Representative Wayne Aspinall online in the Mesa County Libraries catalog, via the Mesa County Oral History Project.
In his time, Wayne Aspinall was one of the most powerful men in the United States. As one of the longest serving members of the U.S. House of Representatives, representing Colorado's Fourth Congressional District from 1949 to 1973, he used his clout to create water storage projects all over the Western United States, including the Glen Canyon Dam that created Lake Powell. He even voted to move water from the Western Slope to the Eastern Slope of Colorado via the Frying Pan Arkansas project, although it angered his constituents.
He was a fierce opponent of the nascent environmental movement, which organized to defeat some of his more controversial water plans. Yet he also showed willingness to compromise, releasing the Wilderness Act of 1964 out of the House Interior and Insular Affairs Committee that he controlled, essentially allowing the passage of a bill that he opposed. In return, President Kennedy agreed to sign a bill that created a Public Land Law Review Commission, a pet project of Aspinall's.
Wayne Aspinall remained firmly and humbly rooted on the Western Slope. As a boy, he went to the rural Mt. Lincoln School between Palisade and Clifton. He also taught for the Mt. Lincoln School in later years, even after he had a successful career as a lawyer and state legislator. You may not agree with all of his policies and accomplishments, but Aspinall remains an important person in Mesa County's history. You can still see signs of his prominence today. Grand Junction has the Wayne N. Aspinall Federal Building and U.S. Courthouse, there is an Aspinall Fountain in Palisade Park, and Mesa County Libraries at one time helped administer an Aspinall Room in its former Palisade Branch.