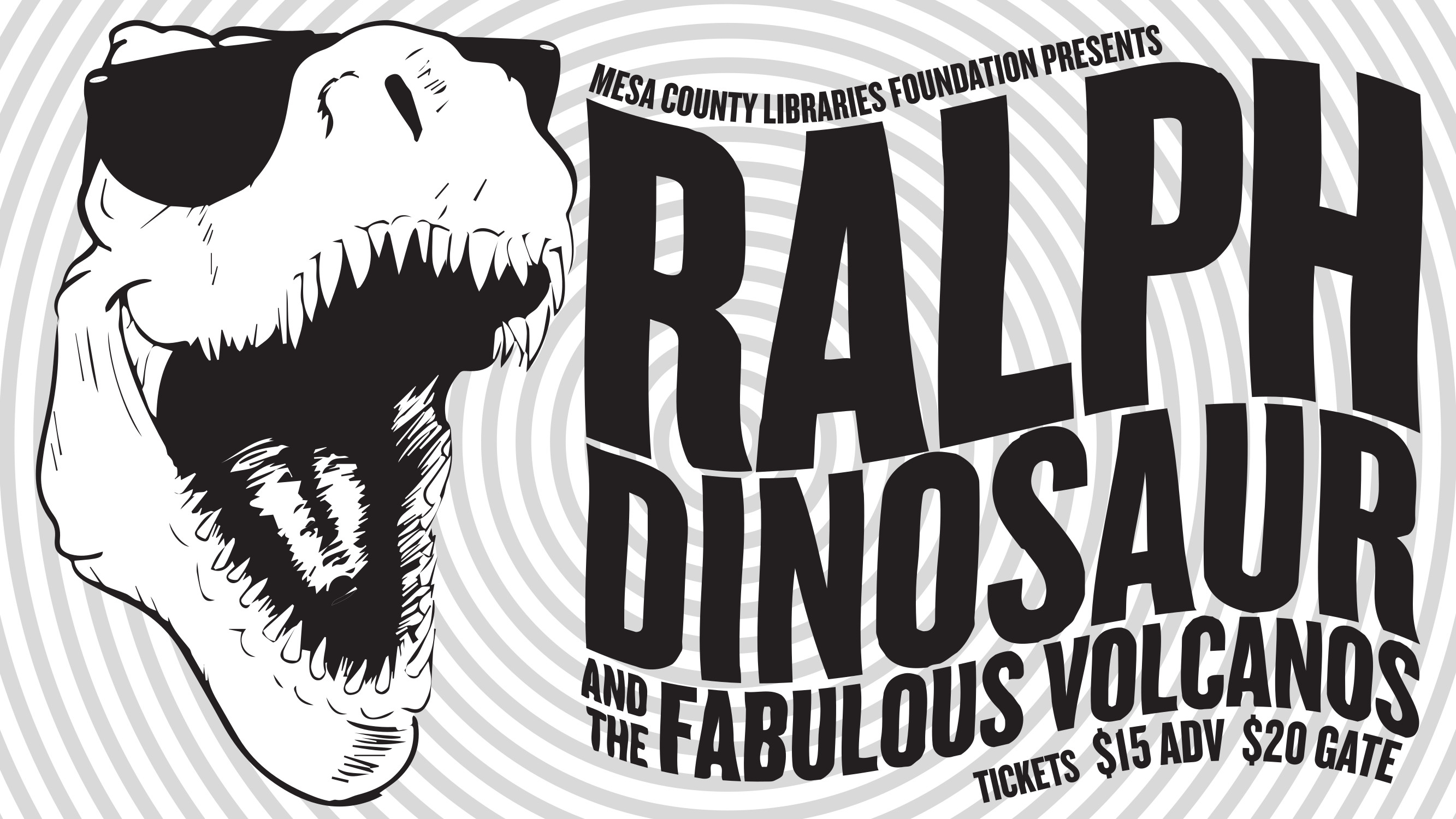 The Mesa County Libraries Foundation will present Ralph Dinosaur and the Fabulous Volcanos in concert the evening of Saturday, June 30, 2018, at Grande River Vineyards in Palisade, Colo.
The outdoor show kicks off the winery's annual summer concert series, Hear It Through the Grapevine, and happens during the annual Colorado Lavender Festival in Palisade. Proceeds from the concert benefit the Mesa County Libraries Foundation, a nonprofit organization that raises funds to benefit Mesa County Libraries. The Foundation supports capital projects, special events, and other special projects of the library.
Gates open at 6:30 p.m., and the show starts at 7:30 p.m. Tickets are $15 in advance and $20 at the gate. Children 12 and under are admitted free.
To Get Tickets:
Purchase online through Grande River Vineyards (Please note the online payment system only works on a desktop computer and will not work with mobile devices).
Purchase in-person at Grande River Vineyards, Fisher's Liquor Barn, or Roper Music.
Food (provided by Michael Angelo's Wood Fired Pizza and Be Crepeful), wine, soda, and bottled water will be available for purchase. No outside beverages are allowed. Bring a chair and a picnic, but please leave pets at home.
Grande River Vineyards is located at 787 N. Elberta Ave. in Palisade, just off I-70 at Exit 42.
Ralph Dinosaur and the Fabulous Volcanos is a long-time favorite band on the Western Slope. The energetic group specializes in 70s and 80s cover tunes and sometimes throws a few originals into their performances.
"It's exciting for the Mesa County Libraries Foundation to bring Ralph Dinosaur to the Grand Valley. Many local residents are familiar with Ralph's music and don't miss a chance to see him, so we are looking forward to a great show," said Karen Kllanxhja, Development Director for Mesa County Libraries. "Come out to Palisade and join us for a really fun evening June 30!"
Well Read, a private-label red wine produced and bottled by Grande River Vineyards to benefit the library foundation, will be available at the concert. Well Read also is available for purchase at Grande River Vineyards and Fisher's Liquor Barn.