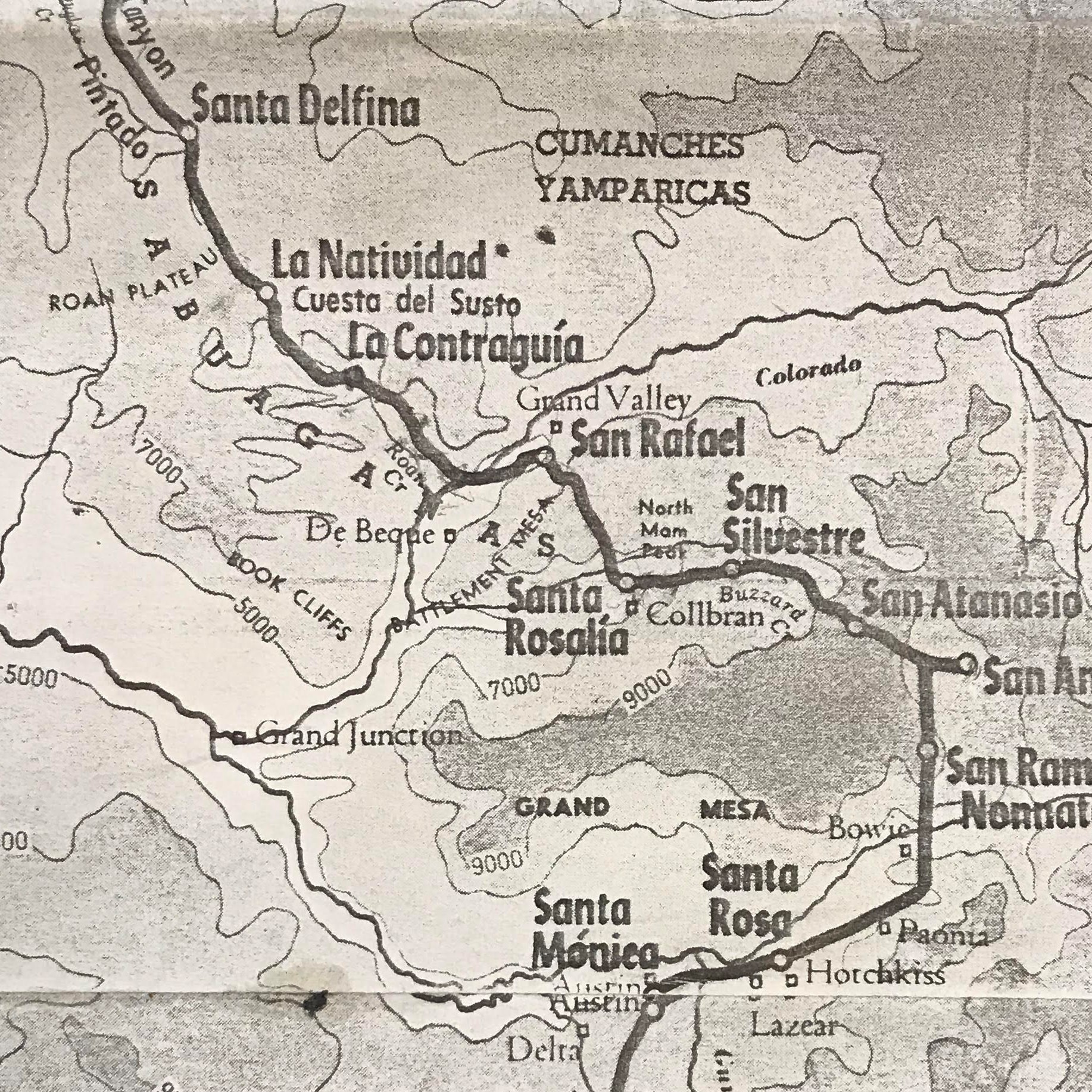 In 1776 Atanasio Dominguez and Silvestre Vélez de Escalante set out on an expedition to find a route from Santa Fe, New Mexico to the coast of northern California. Dominguez and Escalante were Franciscan priests who were traveling along with 9 other companions. Part of their expedition took them from northward from New Mexico through western Colorado just east of Delta and north of the Grand Mesa. Thankfully, the explorers kept a detailed journal indicating the different places they had visited and the Native Americans that they made contact with. Their difficult journey would have far more challenging if not impossible if not for their Ute and Paiute guides.
During the 1767 expedition, Dominguez and Escalante named several bodies of water and geographical landmarks. Although the expedition applied their own names to the sites, many of the locations would have been named or recognized for their importance by the indigenous residents much earlier in time. A few of the place names from the assigned by the Spanish explorers include the following.
Cañón Pintado – Translating as "Painted Canyon" this name originates from the fact that the expedition noted the various pictographs in the Douglas Creek area south of Rangely. This area was eventually recognized as the Canyon Pintado National Historic District. In addition to the rock art in the Douglas Creek area, there are also several sites that were occupied in prehistoric times.
Piedra Parada – Located near Pagosa Springs, CO. this is now known as Chimney Rock. It is an impressive geological formation and several important archaeological sites are located in its vicinity.
El Rio de Tizon – We know this body of water as the Colorado River. The river was a destination of earlier Spanish explorer Juan Rivera, who blazed the path forward for Dominguez and Escalante in 1765. Rivera had also been searching for silver and information on the Native Americans in addition to the Colorado River.
Sierra de los Tabehuachis – The Uncompahgre Plateau is a huge landform in Western Colorado. It stretches in a northeast direction from the area of Telluride to the boundaries of the Colorado National Monument.
On September 5, 1776, the expedition was in the vicinity of Collbran and they continued in a northwestern direction towards the Roan Plateau. Their route had previously taken them over the northeastern edge of today's Grand Mesa. After their journey was completed the group had covered approximately 1,700 miles over the course of 159 days. They returned to Santa Fe on January 2, 1777, and submitted their signed journal on January 3.
The image located above is from the book Pageant in the Wilderness: the story of the Escalante Expedition to the Interior Basin, 1776, including the Diary and itinerary of Father Escalante by Silvestre Vélez de Escalante.