Crank up those swamp coolers and chug frosty pitchers of lemonade: it's (still) extremely hot outside.  If you're feeling drained from the summer heat, it may appease you to sprawl out in front of a fan with a mentally cooling read! The following titles are about swimming in abnormally cold waters for competition, thrills, health improvement, or other reasons unclear to those of us with little desire to become a human Popsicle: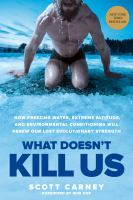 According to Dutch fitness guru (and freak of nature) Wim Hof, known to some as "The Iceman," cold therapy and ice swimming have many benefits for your immune system. Hof has climbed Mt. Everest and Mt. Kilimanjaro wearing only shorts and shoes in record time.  He believes exposure to intense cold provides health benefits such as improved sleep, increased endorphins, and lessened fear of pain through the withstanding of extreme discomfort. "What Doesn't Kill Us" by Scott Carney touches on the remarkable claims of Wim Hof, as well as Carney's own tests of endurance.  I become irritated when the hot water runs out during a shower, so I find it tough to imagine taking a leisurely swim across a lake filled with ice chunks.
Another interesting tidbit: there exists such a thing as the International Ice Swimming Association.  The best ice swimming time on record occurred in Lake Zurich, Switzerland, where a South African man swam 1.43 miles in 43 minutes in waters topping out at a mind-numbing 4 degrees Celsius.
Whether you're swimming in an alpine lake or laid out under the air conditioner with a triple scoop of ice cream, do your best to stay cool this summer. If you'd like another refreshing distraction from the heat, feel free to visit any of the Mesa County Library branch locations during one of our summer events.  View our events calendar here. 
Image source: www.pixabay.com