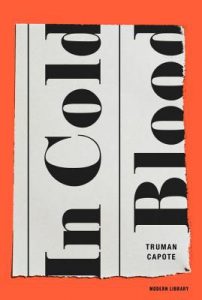 This is one of those books that most people have probably heard of. It investigates the gruesome murder of a family living in a tiny Kansas town, the search for their killers, and the process of the trial of the century. It is written in the style of a novel, so you get inside the heads of the victims, the detectives, and the townspeople – yet the events are entirely real. That is arguably the scariest part of this book: murders like this happen all the time to regular people, just like you and me. And it was penned by Truman Capote, one of the most celebrated authors of the twentieth century.
That is the unfortunate part. Capote's dry, excessively detailed style kills the excitement of the novel. One particularly banal paragraph tells the reader all about the cat that the lead detective owns, why the cat is at the vet, and what treatment the cat received. Another page or two lists the favorite vocabulary words (complete with definitions!) of one of the killers. Capote's quixotic description of the town of Holcomb includes demographics, geography, and history; none of which are particularly relevant to the murder case. Passages like this bog the story down.
No doubt about it, this is a complex novel with a lot to offer. It could be read as a critique of the American justice system, an exploration of the psyche of killers, even a psychological experiment by an unreliable narrator to make the reader sympathize with unbalanced killers. However, if you are looking for an exciting account of the famous 1959 Clutter Murders, and the hunt to bring their murderers to justice, you will not find it here.
-Sarah, Recent High School Graduate
Rating: 2
Teen Reviews presents book reviews by teens in Mesa County. Don't be surprised if you can't find some of these books at the library or in stores: teens who attend Teen Book Club on Wednesdays at 4:00 at the Central Library have access to books before they are officially published.
Rating System:
5: Hard to imagine a better book
4: Better than most
3: Readable
2: Needs work
1: How did it ever get published?