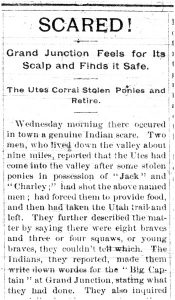 The recently removed Ute Indians loomed large in the imagination of Grand Junction's early settlers. The Utes allowed the U.S. Army to remove them peaceably to the Uintah Reservation in Utah in 1881, and in historical retrospect, it seems there was no real risk that they might threaten the town. Some Utes stayed behind and lived in hidden settlements on the Uncompahgre Plateau and elsewhere, but stayed out of sight. Other Utes simply came through town to trade or hunt.
Nevertheless, The Grand Junction News called frequently for the establishment of a military post in what is now Mesa County. The county fathers even facilitated the creation of Colorado National Guard unit Company F, which, as the Grand Junction News put it, mustered into service "all the brave boys who loved their country and hated the Ute."
In June of 1883, the good citizens of Grand Junction received an especially big scare when an armed band of Utes came into the county. Under the provocative headline "Scared! Grand Junction Feels for its Scalp and Finds it Safe," the News breathlessly related the tale of how eleven or twelve Utes rode through the area for at first unknown reasons. To its credit, the News related a humorous account of residents lining the downtown area.
"Crowds gathered on the sidewalk and looked at each other and laughed loud and talked large, but did nothing else."
A small group of men went out looking for the Utes in order to ascertain their purposes. The News poked fun at the false bravado of the group, and then joked about the fact that all that hand-wringing and bluster on behalf of the town's citizens was for nothing. The so-called "witnesses" the posse encountered gave them false information based on hysteria and innuendo, claiming that the Ute had shot and killed two men, and that they had forced ranchers to give them food. In reality, the Utes had come through in pursuit of horse thieves who had stolen their ponies, something that all citizens of the Old West could relate to. The Utes were unable to catch up with the thieves, who had camped out in the desert and then put the horses on a train at the stockyards before making their escape. The leader of the Ute band dictated a message to be given to the leaders of Grand Junction, telling why they had come, and then returned to the reservation. No one was hurt.
For books about the Utes, check out our catalog, visit the microfilm reels of the Grand Junction News at the Central Library, or take a listen to our Mesa County Oral History Project collection online.