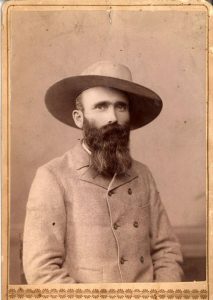 Armand de Beque, an early Mesa County resident and interviewee of the Mesa County Oral History Project, had his fair share of dirt on his father, Dr. Wallace A.E. de Beque.  Dr. de Beque was one of the founders of De Beque, Colorado, a small town in Mesa County.  As described in an interview with Armand, Dr. de Beque came to the Mesa County area in the late 1800's. Dr. de Beque arrived after a young adulthood spent fighting in the Civil War then going to the University of Pennsylvania to become a surgeon. After his school years, Dr. de Beque moved to Mesa County and pursued jobs working as a cattle rancher and then a surgeon in De Beque for railroad workers.
During a brief time between university and Mesa County life, Dr. de Beque lived in Fairplay, Colorado working as a coroner and hopeful miner for two or three years. This was during a period of wild mining days through out the West, no doubt rich with thieving and foul play. While living the less than glamorous life of a coroner, Dr. de Beque had an interesting situation arise in which the tables turned – now he was the one fearing for his life:
"One day a couple of men came and told him that if he wanted to live, to do exactly what they told him. So, he wanted to live, so he did what they told him. His job was that the next afternoon, they were going to have a hanging. When the man fell through the scaffold to the ground, the coroner was supposed to examine him and pronounce him dead. But they had a trick rope, some way, or something tricky in the scaffold, and the man fell through there and he wasn't dead. But my father went in there and he pronounced the man dead, so a couple of men came and put him in a wagon and hauled him away and he escaped." – Armand de Beque 
Armand remembers this story running in the Denver Post in the 1950's, as it caused quite the hubbub in the community.
Dr. Wallace de Beque lived through this sticky situation to tell his tale and many others, which you can access on the Mesa County Oral History Project.