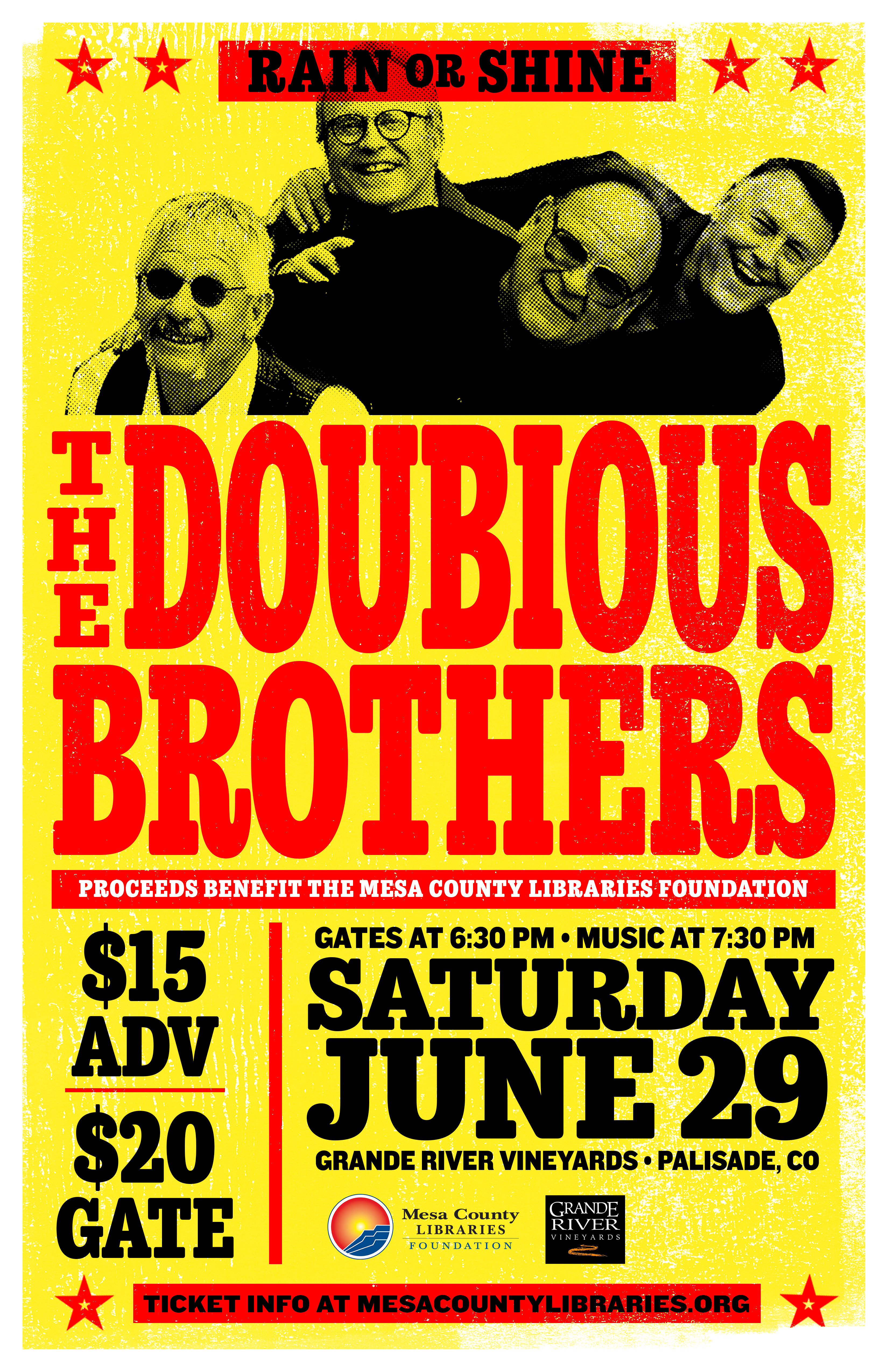 Later this month, you'll have a chance to enjoy some good music, sip some great wine, and help the Mesa County Libraries Foundation – all at the same time!
The Doubious Brothers, a unique band of Western Slope musicians from a variety of musical traditions, will appear in concert Saturday, June 29, 2019, in a special performance to benefit the Mesa County Libraries Foundation.
The concert will take place at Grande River Vineyards, 787 N. Elberta Ave. in Palisade (off I-70 at Exit 42) and is the opening show for the winery's Hear It Through the Grapevine outdoor summer concert series. Gates open at 6:30 p.m. Saturday, June 29, and the music starts at 7:30 p.m., rain or shine!
Tickets are $15 each in advance or $20 at the gate. Kids 12 and under are admitted free. Tickets are available at Fisher's Liquor Barn, Roper Music, Enstrom Candies (downtown Grand Junction), Grande River Vineyards, and online.
Bring a chair and a picnic, and please leave pets at home. No outside beverages will be allowed, but wine, soda, and water are available at the show. Featured wines will be The Grape Gatsby, a refreshing white wine, and Well Read, a soothing red, both of which are specially branded wines whose purchase benefits the Mesa County Libraries Foundation.
The Doubious Brothers are a crowd-pleaser whose members have played in some of the region's best-loved bands, including Ralph Dinosaur and the Fabulous Volcanos, JT & the Big Dogs, and Stray Grass. They play a collection of music from the past and present, with influences of Americana, blues, rock, country, and jazz. Members of The Doubious Brothers include Doug "Doub Doubious" Simons – vocals, guitar, guitjo, and mandolin; Pete "Flaco Doubious" Langford – bass; Joe "Buck Doubious" Kendrick – vocals and drums; and Michael "Hunter S. Doubious" Frazier – vocals and guitar.
The Mesa County Libraries Foundation is a 501(c)(3) nonprofit organization that raises funds to benefit Mesa County Libraries. The Foundation supports capital projects, special events, and other projects of the library.
Get your tickets now!