Teen Reviews presents book reviews by teens in Mesa County. Don't be surprised if you can't find some of these books at the library or in stores: teens who attend Teen Book Club on Wednesdays at 4:00 at the Central Library have access to books before they are officially published.
Hinebaugh, Olivia. The Birds, the Bees, and You and Me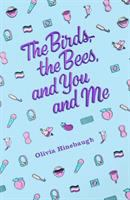 "The Birds, the Bees, and You and Me" is an great look at sex education in schools today and also a wonderful story about friendship and romance and the trials and tribulations that come with that. It follows a girl by the name of Lacey who decided she wasn't having any of it when she was placed in a class that talked about 'good health choices' and was an abstinence-only sex ed class.
Lacey and her close friends and bandmates, an asexual girl (!! Ace girls in fiction heck yeah!!) by the name of Evita and a boy named Theo decide to do what they can to help educate the students and hopefully change the faculties minds on their policies regarding these topics- Doing things like meeting with girls who have questions to printing pamphlets about how to use a condom to distributing condoms around the school to anyone who might need them, all in an attempt to lift the stigma around talking about things like this. There's also a healthy dose of friendship drama, college choices, and romance to spice things up and keep you genuinely interested in this story.
Rating: 4
-Katie, Grade 11
Rating System:
5: Hard to imagine a better book
4: Better than most
3: Readable
2: Needs work
1: How did it ever get published?