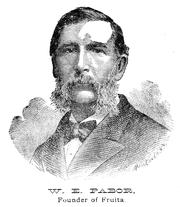 Mesa County locals may know William E. Pabor as the person who founded the Fruita Town and Land Company and thus, the town of Fruita in 1884. But did you know that Pabor also began writing poetry at a young age, and became a nationally-known poet before embarking on a lifelong journey of town building, writing and horticulture?
US Census records show that Pabor was born and raised in Harlem, New York in 1834. The 1850 census lists his father's occupation as gardener, which might help explain the younger Pabor's later interest in fruit growing and horticulture.
In 1854, at the tender age of nineteen, Pabor became the editor of the Harlem Weekly Times (source: Chronicling America). During this time, Pabor found early success for his poetry in national newspapers and magazines, such as the Fort Edward Ledger and Godey's Lady's Book (see images), demonstrating that his poetry was at least known to the Eastern literary establishment. A quick search of the Hathi Trust shows that publishers in Boston and New York also published small volumes of Pabor's songs (and not volumes of his poetry. Thanks to local author Steve Hight for the correction).
In 1870, Pabor left New York and came to Colorado as the secretary of the utopia-striving Union Colony, which later became Greeley. Strangely, utopia didn't work out, and Pabor later edited the Longmont Valley, Home and Farm before it folded in 1879, and contributed agricultural articles to the Colorado Farmer and other newspapers.
Even before moving to the Mesa County, Pabor had big plans for fruit growing on the Western Slope. The December 30, 1882 edition of the Grand Junction News mentions Pabor's visit to the area to research a publication to be titled Fruit Culture in Colorado. He eventually moved to Grand Junction, where he wrote for the News and worked for the Grand Valley Loan and Land Company, helping to finance agricultural and irrigation development. After a short time in Grand Junction, Pabor moved just west, where he founded Fruita with a vision of it being a fruit growing paradise… which it was, until the coddling moth and persistent frost took their toll on crops.
Throughout his career in town building, fruit growing and finance, Pabor appears to have written. Along with luminaries such as Helen Hunt Jackson and Eugene Field, his poetry appeared in the 1894 book, Evenings with Colorado Poets: An Anthology of Colorado Verse (and reappeared in the second and third editions of the book).
In his book Second Book of Tales, Eugene Field says that "Willie Pabor of Denver… had more of the afflatus in him than any other living human poet" (although given Field's penchant for satire and practical jokes, who knows his legitimate feelings about Pabor's poetic prowess). Pabor's editor and poet friends recognized him by making him the poet laureate of the National Editorial Association from 1886 to 1901, and of the Colorado Editorial Association. He died in Denver during a visit in 1911, and was buried in Fruita on his request.