The population in Mesa County has grown almost 50% since 2000, and here at the library we see more new patrons come through the doors every day. Each geographical area in Mesa County has a unique, plentiful history all of its own. If you or someone you know would like to further your knowledge of how it all began here in our little corner of the world, the library has a fantastic collection of history books written by local authors. These books are not only informative but offer fantastic photographic evidence of the old ways of our county residents.  The following are available for checkout from our library collection:
Echoes of a Dream by Earlynne Barcus (1983)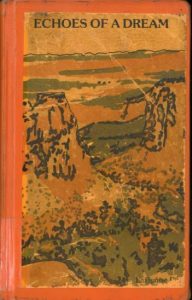 Echoes of a Dream traces the history of Fruita and the lower Grand Valley until 1920.  You can read tales about Loma and the Highline Canal, farming issues, important businesses, and key players in the early Fruita game. Within the ending pages, the author adds a handy chronology of the lower valley from 1881-1920 and is even sweet enough to add recipes for homemade soap and green tomato pie (not to be made at the same time).
Fruita by Denise and Steve Hight (2011)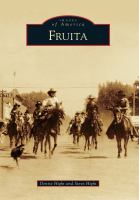 This well organized and informative collection of photographs and descriptions is the most recent, invaluable resource for anyone curious about Fruita's lively past. The town was established by William Pabor in 1884, a poet who quoted Fruita as being "The fairest village beneath the skies."
"Pabor had a vision of a thriving, prosperous community.  More than 125 years after its founding, Fruita is indeed thriving.  With this history, it is our intention to "Honor the Past" and "Envision the Future" of Fruita and celebrate the legacy of William Pabor and those early pioneers who followed in his stead." – Denise and Steve Hight
The History of Fruit and Wine in Palisade, Colorado by the Colorado Historical Society (2018)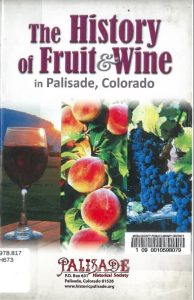 This gem of a book features information about the history of the fruit business in Palisade, and recalls those adventurous pioneers who started growing grapes for wine.  Without their experimentation, we might be lacking many a full glass of delicious local wines from the region.
"Grapes were grown on Rapid Creek and in the Vinelands east of Palisade in the early part of the 20th Century for personal use, rather than commercial and wine production.  One of the first wine makers was Frank Marolt who emigrated from Austria in 1903 and became a peach grower and coal miner…Prohibition, as well as a vine disease wiped out early grape production.  And as a result, most of the early vineyards were replaced by fruit trees." – The Colorado Historical Society
Whitewater: The People, Their Stories, and the History by Carol M. Anderson (2008)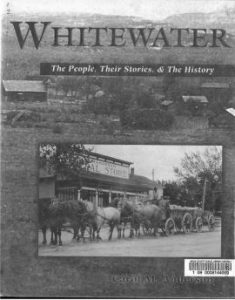 This book delves deep in the history of the Whitewater area, using research from a good number of resources including Daily Sentinel articles and Mesa County Libraries' collection to provide detailed information on early murders and intrigue, the presence of Native Americans, local landmarks, and how people made a living.
The Grand Heritage by Dave Fishell (2003)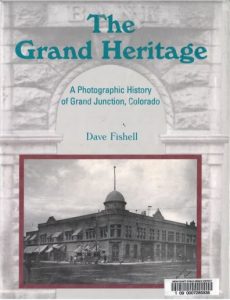 Grand Heritage is a collector's item and a must-read for anyone curious about Grand Junction's history. It is written by popular and knowledgeable local historian Dave Fishell, who often hosts presentations here at the library! Dave covers the transition of the town from a blank dusty slate into the booming Main Street social scene that came to exist.  He shares a treasure trove of photos showcasing Grand Junction from every angle.
"The year: 1881…in a wide river valley situated on the sundown side of the Rocky Mountains, civilization has yet to leave its mark.  The inhabitants are a few rattlesnakes, big-eared jackrabbits, and an occasional herd of deer wandering down to the Grand River for a drink.  The only visitors to the valley have been a few wandering Indians, trappers, and explorers…" – Dave Fishell
Blog featured image source: Library of Congress archives