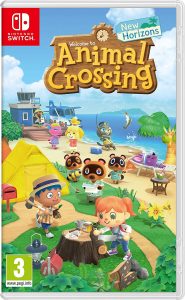 If Bob Ross had gotten the chance to play modern video games, I am sure he would have enjoyed Animal Crossing New Horizons.
This game has it all! Happy little trees, villagers to befriend, and peaceful fishing on your very own island paradise.
This game is essentially the Sims with cute animals and, somehow, even less stress. What plot there is revolves around you moving to a deserted island aided by Nook real estate and building it up from a small camping community to a small town and then a fully functioning island get-away. You pay for housing upgrades via the local currency earned from selling fish, bugs and other entrepreneurial endeavors. There are no enemies (aside from the occasional tarantula), no bosses to defeat (unless you count your housing loan), and a happy soundtrack to go with a bright, colorful setting.
This game is fantastic because it appeals to so many different folks. Younger players get free rein to creatively design their ideal home, learn to save up for specific items, discover fossils as they donate to the island museum, and even try their hand at the stock market (or the stalk market as it's turnips one buys and sells here). Adults get to lose themselves in a simple island world for a bit of revivifying escapism in these challenging times. Creativity and fun are important no matter what your age!
With so many fighting games on the market, Animal Crossing is a breath of fresh air for parents and kids looking for a positive, creative outlet to exercise their imagination.
I would rate this game 9 out of 10.
This game will soon be available through our library on Nintendo Switch and you can enjoy previous editions in the series as well on the handheld 3DS.
This game has an ESRB rating of E for Everyone.
While you wait for the library to re-open, check out the 24/7 resources you can stream or download from home!