Welcome back to our monthly Staff Picks! There's never any shortage of variety around the library, and our staff is happy to share some of their current favorites in hopes you find an enjoyable title you never knew existed.
Amberlee's Pick: Run Fast, Cook Fast, Eat Slow by Shalane Flanagan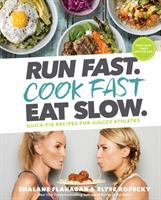 I love cookbooks, but this one truly takes the cake.  Written by the Olympic distance runner Shalane Flanagan and her friend chef Elyse Kipecky, this book features healthier recipes from breakfast all the way to dessert. The recipes are the main focus, but sprinkled in are inspirational stories following Shalane Flanagan's training, as well as tips and tricks for athletes and how to include some of the food you'll be enjoying into your own training.  With fun pictures and relatable recipes, this is a cookbook that makes you want to get in the kitchen to make all these power meals for yourself.
While this book can have a special connection with athletes, the recipes include food that anyone would actually enjoy eating. I personally recommend giving the pulled pork and pumpkin spice muffins a shot. All the recipes are easy to follow and use a few ingredients that encourage you to be adventurous on your food journey but for the most part include everyday items. Whether you're a runner, food lover, or a whole lot of both, you'll find this cookbook to be exactly what you're craving.
Jennifer's Pick: Haben: The Deafblind Woman who Conquered Harvard Law by Haben Girma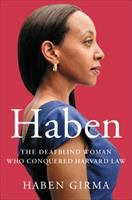 This year in Nashville, Tennessee, the Public Library Association had their annual conference and Haben was one of the featured speakers. She is an excellent public speaker and an advocate for Americans with disabilities. She spoke of the biases many of us have, conscious and unconscious, and how she is striving to bring them to light, examine them and change how we perceive people with disabilities. Haben spoke of not letting fear dictate what she can and cannot do.
Her sense of humor and willingness to try almost anything (she persevered until she found someone willing to teach her to surf ) gives the book a good balance. Haben champions the American with Disabilities Act, and speaks out against "ableism" which "… runs so deep in our society that most ableists don't recognize their actions as ableist."  I was fascinated by how guide dogs and their people are trained, and delighted in Haben's joy of trying something new, something others said "couldn't be done." Though she takes sighted/hearing folks to task, she does so in a matter-of-fact tone that left me feeling enlightened and empowered to be better; exactly what she has done by challenging herself and others' view of who she is and can be.
Julie's Pick: The Antarctic Book of Cooking and Cleaning by Wendy Trusler and Carol Devine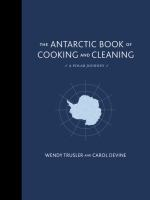 This title really jumped out at me.  It's set on the South Shetland Island of King George (off the very wee tip of the Antarctic peninsula) and written in a travelogue/journal style by authors Wendy (a cook and artist) and Carol (an environmentalist). In 1996 these two women organized a 54 person team of volunteers to pick up three decades of garbage surrounding the Russian research station Bellinghausen.  You'll enjoy historical pictures and stories from this endeavor as well as the early 1900's expeditions completed by others. The authors provide colorful descriptions of Antarctic island life such as sauna taking and water hole plunging, "pitch-and-toss cookery," and, of course, notes on debris picked up.
This is a wonderfully unusual book.  There are 42 recipes, some of which pay homage to the research stations of the area: King George Island Salad, Fisherman's Fish, Great Wall Dumplings, Rosemary Maple Borscht, and Chocolate Cake Two ways.  Check out page 62 for a fantastic picture of two men from the first French expedition to the Antarctic (1903-1905), lounging in rattan chairs with a bottle of wine in front of snow and an icebound wooden ship.
Riley's Pick: An Absolutely Remarkable Thing by Hank Green
I don't normally read sci-fi but I knew I loved Hank Green's work on podcasts and on Youtube, so I figured I would give this a chance.  Thank goodness I did! The characters were so realistic and charming I found myself feeling like I was sitting around with my friends while reading.  The commentary on the social internet and what it means to be a twenty-something right now felt so raw and real.  I gave up social media because of this book and I'm never looking back! The sequel is my most anticipated novel of the summer and I cannot wait to know what happens next.
Cari's Pick: Astrology: Using the Wisdom of the Stars in your Everyday Life by Carole Taylor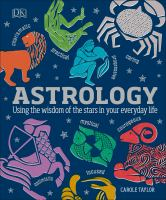 Astrology has been around for thousands of years, yet its popularity comes and goes.  Right now, there appears to be a resurgence of the topic, with new social media astrology accounts and books popping up on the daily.  Often a resource will be great at covering one topic, like houses, while another will be great at covering transits, but it's hard to find a beginner's book that covers all the basics well.
This book is one of the best introductions to astrology I've found.  The author, Carole Taylor, covers most of the major astrology concepts in very accessible language, including: a brief history of astrology, the difference between modern and traditional astrology, the meaning of each sign though the planets, and how to navigate and understand specific life events using your natal chart.  If you're looking for a great overview of astrology and want to start using this ancient tool for self-development, I highly recommend this book.
Click on any of the above book covers to find them in Mesa County Libraries catalog.  Happy reading!