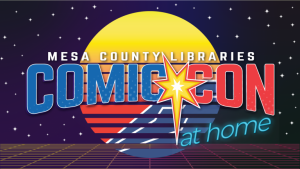 If you're missing the in-person Mesa County Libraries Comic Con this year (and who isn't?), take heart! You can join us for the virtual Comic Con at Home, the next-best thing to an in-person Comic Con!
Comic Con at Home includes an All-Ages Graphic Novel Reading Challenge, the premiere of a video featuring participants in the Cosplay Contest, a Comic Con Teen Trivia event, superhero-related Take-and-Makes, and more!
For more information about all of those events and activities, please visit the Comic Con at Home web page. You'll find links to everything there, along with a Virtual Expo Hall and an online look at the 2020 Comic Con Art Show.
Click over to the Comic Con at Home page and check it out!