Whoops! Accidentally skipped the 11/27 post!  I'm blaming my Mom for giving me 1/2 a pecan pie on Thanksgiving which put my brain into sugar crash/can't think mode.  Yes, I'm aware I didn't HAVE to eat all of it, but alas…
In today's Friday Focus we'll be looking at one of my favorite library tools – Novelist Plus!
Novelist is like having that know-it-all, read-it-all friend at the ready, who can tell you all the books in a series in order and what to read next if you enjoyed that one book about a magical young wizard…not only does it offer author read-alikes, but also series read-alikes and excellent tools for discovering exactly what you're looking for that you don't even KNOW you're looking for, such as 'browse by' genre, appeal, or themes and more.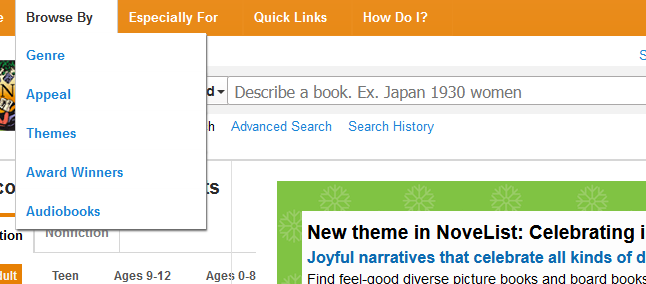 To find an author or title read-alike, use the search box and then find those options under the title result.  You can also click 'search the catalog' to see if we've got it: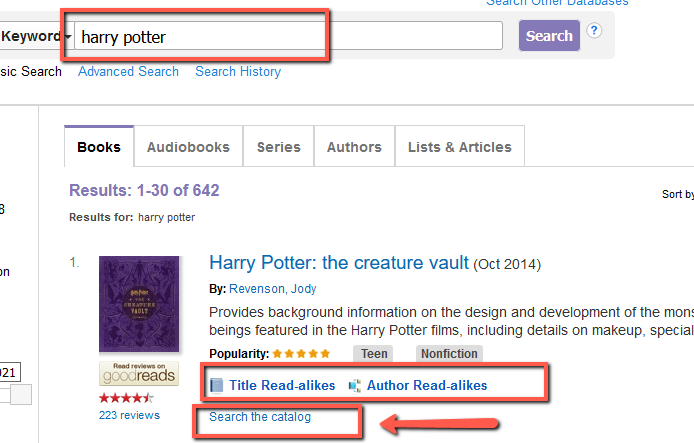 Novelist is for all ages and you will need your library card from home to access it from our eResources A-Z list.  We also have Novelist K-8 Plus, which offers the same great tools, but is geared toward kids and teens.  If you don't have a card, you can apply for one online here.
Enjoy!