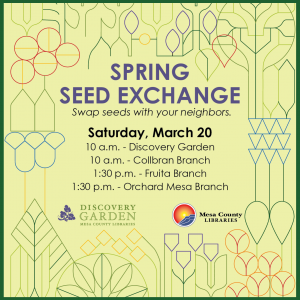 Bring a seed, take a seed at the Mesa County Libraries Spring Seed Exchange, scheduled for Saturday, March 20, at four library locations!
Gardeners are invited to bring portioned seeds and take seeds left by others. Please divide your seeds into individual-sized, labeled packets before arriving at the exchange. There is no charge to participate.
The Spring Seed Exchange takes place Saturday, March 20, at the following locations and times:
Discovery Garden, Fifth Street and Chipeta Avenue, 10-11:30 a.m.
Collbran Branch, 111 Main St., 10 a.m.-1 p.m.
Fruita Branch, 324 N. Coulson St., 1:30-3 p.m.
Orchard Mesa Branch, 230 Lynwood St., 1:30-3 p.m.
Due to pandemic restrictions, social distancing is requested, and masks are required in close proximity to others.