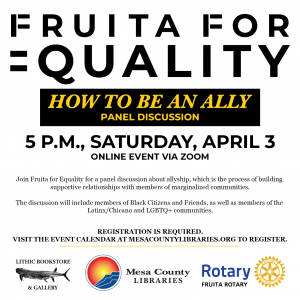 An online panel discussion titled "How to Be an Ally" is set for 5 p.m. Saturday, April 3, via Zoom. The panel will explore allyship, which is the process of building supporting relationships with members of marginalized communities.
The discussion, hosted by the Fruita for Equality initiative, will include members of Black Citizens and Friends, as well as members of the Latinx/Chicano and LGBTQ+ communities in Mesa County.
Advance registration is required for the event. To register, visit the online Event Calendar at mesacountylibraries.org. Questions for the panel discussion also are being accepted from the public through a link in the Event Calendar.
Fruita for Equality is an initiative to promote and support equality, inclusivity, and diversity through meaningful conversations and action in the community. Collaborators in Fruita for Equality include Mesa County Libraries, Fruita Rotary, the city of Fruita, and Lithic Bookstore and Gallery.