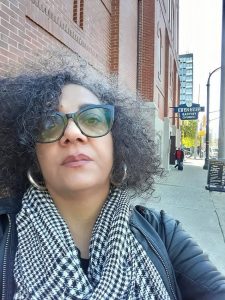 In many ways, Shannon Robinson has lived an enviable punk rock kind of life, going her own direction and setting her own rules. She bought a fake ID so she could start working at the age of fourteen, was in the pit at Denver hardcore punk shows during the scene's heyday, became a Vespa-riding SHARP (Skinhead Against Racial Prejudice), squatted in an old Victorian house, worked at some of Denver's coolest places and hung out in others (like Rock Island and Muddy's), and helped get Denvoid's nascent rave scene off the ground as a DJ and street team member.
Shannon also faced struggles that led to her DIY life. She dropped out of Aurora schools at fourteen to begin working because so many kids of all races bullied her for being mixed race and of ambiguous gender. She came with her mother to Aurora in part because of treatment she received as the first African-American child to attend her elementary school in Gunnison. There, white people called her the N word, made her ride in the back of the school bus, and did other horrible things. Her father and mother also faced prejudice and violence as an interracial couple in Grand Junction in the 1960's.
Shannon's story is at once heartbreaking and inspiring, entertaining and devastating. Listen to the oral history interview of this important Grand Junction resident and activist in the Mesa County Oral History Project's new Social Justice Archive, a Mesa County Libraries' partnership with Black Citizens and Friends and Professor Sarah Swedberg (more interviews coming soon!).