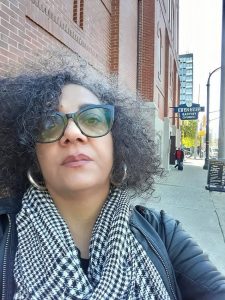 Shannon Robinson has led a brave and transformational life in Grand Junction. She overcame racism from some fellow students to become the first African-American president of student government at Mesa State College (now Colorado Mesa University). In the midst of the AIDS epidemic, she helped stage on-campus demonstrations to educate students about the dangers of the disease. She went on to become the prevention coordinator and interim-director of the Western Colorado AIDS Project.
In her second oral history interview with the new Social Justice Archive (a Mesa County Libraries partnership with Black Citizens and Friends, Professor Sarah Swedberg and others), Shannon Robinson recounts helping to form the local organization Right & Wrong at the onset of the national protest movement fueled by the killing of George Floyd by Minneapolis police. Right & Wrong organized the now locally-famous march on Grand Junction's city council, a moment that has sparked change and ongoing discussions about structural racism.
With her fellow activists, Shannon has also encountered neo-nazis, withstood insults from white supremacists, and faced down armed counter protesters. Shannon speaks about one such incident during a march:
"People spit on our friends, called them race traitors, said that that they wished that they had big asses like us, wished their wives had big asses like us, telling us what they would do to us women if they had a chance. And as we rounded the corner onto 5th, we saw Oath Keepers. We saw Patriot Front. We saw Proud Boys. We saw Constitutional Militia, and even more AR-15s. Three of the members, Black members from RAW went inside and a few of us, three or four of us, stayed outside, standing against the doors, looking at these people, listening to the stuff they were saying… One of the ladies was so terrified she dropped her metal Yeti water bottle. She dropped it and it hit the sidewalk, and when it hit the sidewalk, all the guns came up… I'm staring at this guy with an AR-15 pointed at me, and I'm like, 'If I'm gonna go, I'm gonna stare you in your eyes, mr. man…' but when that happened, a young woman, local, young woman who had been one of our crossing guard march assistants, she pushed me back behind her, and one of my other friends stood in front of me and we stood together, lined up, waiting to die."
Listen to Shannon's interviews online and hear her speak about her life as an activist.