Keep the good times and great reads rolling this summer with new recommendations from our library staff. Please visit our catalog for even more terrific staff summer reading picks.
Ana's Pick
Hood Feminism: Notes from the Women that a Movement Forgot by Mikki Kendall
(This title can be applied towards the Mirrors and Windows Reading Experience!)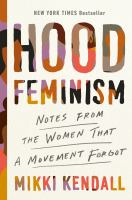 Hood Feminism is a third wave feminism book containing a selection of essays that provides a window to the present needs of women forgotten by the movement. This book is not only eloquently written, it is refreshing in the way that it offers nuance to tough subjects. I highly recommend this book to anyone interested in progressive discourse.
Kacee's Pick
Laziness Does Not Exist by Devon Price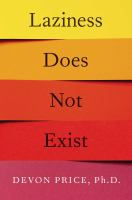 Laziness Does Not Exist by Devon Price PhD came out of an essay Dr. Price published several years ago on Medium.com. Dr. Price expands on all of the obstacles in today's culture that prevent creativity, wellness, or even necessary tasks of daily life.
I really enjoyed Dr. Price's conversational tone as they worked through all the things that impact their daily life. They highlight how there is always an impact on the work people want to do in their lives, whether that's grief, exhaustion or stress. I'm grateful I read this book as it helped me reframe how to think about my own life.
Giselle's Pick
Clanlands: Whisky, Warfare, and a Scottish Adventure Like no Other by Sam Heughan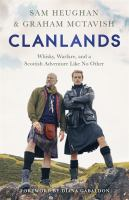 If you are a fan of Outlander, you must read this book. Even if you are not a fan and you want to know more about Scotland's history, you must read this book.
This non-fiction read takes place in Scotland where the new Starz show Men in Kilts originates from. The writing goes back and forth between two friends, Sam and Graham; they are both witty and informative in their writing style. The book portrays the friendship between the two of them in such a great way, and you learn more about them as people as you move through the book. Pages 148-149 are especially relevant in today's cellphone and digital age. Enjoy this informative read about traveling through Scotland from the eyes of two friends.
Noel's pick
Between the World and Me by Ta-Nehisi Coates
(This title can be applied towards the Mirrors and Windows Reading Experience, and is also available in Spanish)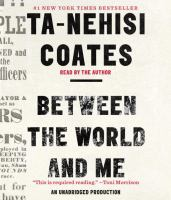 In a heartbreaking scene from Between the World and Me, African-American author Coates tells the story of a white woman who shoved Coates' five-year-old, Black son on an escalator in New York. She was in a hurry and angry because the boy was moving slowly. When Coates came to his son's defense, as any parent would, a small crowd of white people surrounded and threatened Coates, although the woman was obviously in the wrong.
This book is a personal and poignant exploration of how social forces and police departments patrol African-Americans. Coates talks about growing up in Baltimore, about his own experiences being stopped by police, and about friends that have been killed by police. In doing so he develops a social theory about "The Dream" of America maintained by white Americans.
Coates argues that race exists as a binary construct in the minds of white Americans, and that police and other structural forces oppress and sometimes kill Black Americans in order to maintain white supremacy within that binary relationship of black and white. Coates believes that only when white Americans release the myth of "whiteness," embrace more diverse origins, and broaden the scope of what it means to be "American" so that the term is truly inclusive of all its peoples, will the suffering of African-Americans end. A great read.