Mesa County Libraries is home to an excellent trove of old, rare, local and southwest-based books compiled in our Rashleigh History Room.  Within the depths of this room, I stumbled across a title sure to intrigue the palette of any fan of both cookbooks and history.
Mesa County Cooking with History is a compilation of recipes passed down from some of our county's earliest settlers, compiled by Evelyn Kyle, Emma McCreanor, and Wendy Welshans and brought into fruition by the Museums of Western Colorado and the Mesa County Historical Society.  This cookbook was created in 1980 but shares recipes created by pioneers who arrived in the Grand Valley long before, serving up a fun dose of nostalgia.
Jean Page was a Mesa County Oral History Project interviewee born in 1915 and moved to Grand Junction with her family in 1921.  Her father was John Page, the man who Page, Arizona is named after mostly due to his involvement as the Commissioner of the Bureau of Reclamation in the 1930s.  Jean's father used to drive relatives visiting from the Midwest (or "flatlanders" as she called them) up the steep and winding Serpent's Trail to check out the amazing views of the area. Perhaps once at the top, they paused to eat Jean's Sweet and Sour Bean Salad.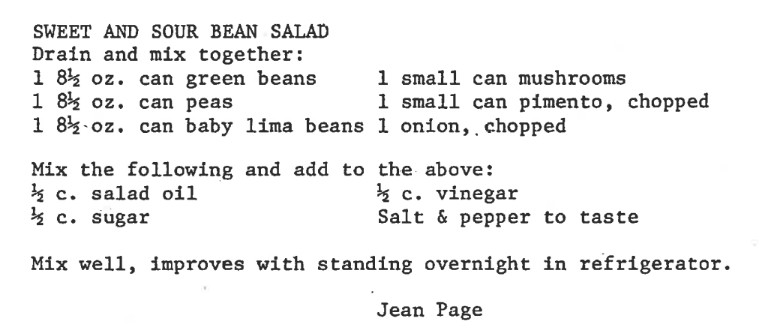 The most famous candy man of Grand Junction's history, Chet Enstrom was the talk of the town for his specially-made chocolates and toffee.  Chet moved to Grand Junction in 1929 and dove headfirst into the world of candy and ice cream making. On Chet's down time, he enjoyed kicking back and stirring up a refreshing, sugar-loaded pitcher of Wedding Punch on a hot summer day.

Barbara Wetherell was born in 1922 in Grand Junction, and between 1970 and 1996 she worked for Mesa County Libraries! Barbara also worked as an interviewer for the Mesa County Oral History Project in the 1970s and 1980s. She was described as an extremely personable human who loved social events, so I'd imagine Barbara's BBQ sauce was probably a hit at all the summer cookouts.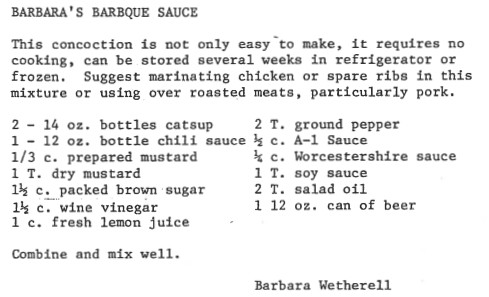 Ann Cunningham grew up in Meeker, Colorado in the early 1900s and moved to Grand Junction as soon as she was able to venture out on her own. She took on a few different jobs throughout town including work at a restaurant and housekeeping at a florist shop.  She lived at the Lennox Hotel, a boarding house, for some time.  Perhaps while living there, Ann made a few batches of her delicious Applesauce Cake for the other residents to enjoy.

Enjoy more of these historical recipes by visiting the library's Rashleigh History Room to browse Mesa County Cooking with History.
Blog feature image source: pixabay.com