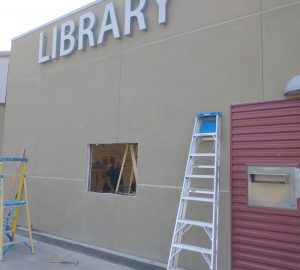 The drive-up book return at the Central Library in downtown Grand Junction is temporarily closed for installation of a drive-through service window.
The library is installing a drive-through window in order to make Curbside Pick-Up more convenient for patrons and more efficient for library staff to serve. Construction will disrupt the drive-through lane, so the book return is closed during the project.
The drive-up book return is expected to be closed for about two weeks during construction.
Here is what this news means for patrons (besides an awesome new drive-through window):
• During the book return closure, patrons may return items inside the library, or they can wait a couple of weeks until the drive-up return reopens.
• Mesa County Libraries do not charge fines for overdue items, so patrons who keep their items from Mesa County Libraries will not incur late charges by holding on to them.
• Patrons returning materials after hours may use the outdoor book returns at other library locations if they desire.
• Curbside Pick-Up service will continue during the construction project in the designated parking spots at the library.
The library appreciates patrons' patience while we install the drive-up window.