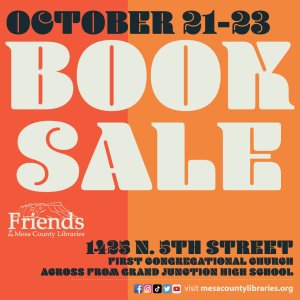 There's no better place than the Friends of Mesa County Libraries October Book Sale to stock your shelf with reading material for the winter or to shop early for holiday gifts.
This blowout sale, complete with bargains galore, happens Thursday through Saturday, Oct. 21-23, at the First Congregational Church, 1425 N. 5th St. (across from Grand Junction High School). The sale includes books for all ages – kids, teens, and adults.
The public sale happens 9 a.m.-7 p.m. Oct. 21-22, and the bag sale ($5 per bag, bring your own bag) happens 9 a.m.-noon Oct. 23.
Most books will be priced at $2 or less. Admission to the sale is free, and all sales are cash only. Masks are recommended.
Proceeds from the sale will benefit the Clifton Branch Project, which seeks to build a new, larger Mesa County Libraries branch in Clifton.