Many of you might be jumping for joy, as this is by far your favorite time of year!
If you enjoy celebrating the season known for eerie, chilling good fun, Mesa County Libraries has got you covered with a selection of fantastically frightening books and films that could inspire you to sleep with the lights on. For werewolves, slasher movie education, monsters, alien terrors and more, click on the item covers below to be directed to our catalog.
Rachel D.'s Picks
Basketful of Heads by Joe Hill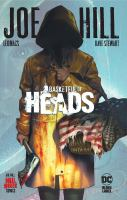 When June Branch goes to spend the last days of summer on Brody Hill with her boyfriend Liam, she expects a romantic weekend getaway. What she finds instead is sheer terror. A group of escaped criminals break into the house the couple is watching, abducting Liam in the process. When June defends herself with an old Viking axe and beheads one of her attackers, she discovers it's no ordinary weapon; the severed head remains alive and aware. But even with the help of her supernatural axe and an iron determination to get her boyfriend back, June might just be in over her head.
Basketful of Heads is a gory, electrifying romp, brilliantly capturing the look and feel of '80s slasher movies. Joe Hill's dialogue is witty and incisive, and Leomacs' art is a pitch-perfect callback to retro horror comics. For those fans of Freddy and Jason out there, this is a must-read.
Immobility by Brian Evenson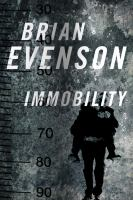 Josef Horkai awakes in an unfamiliar world, paralyzed from the waist down. He remembers nothing, save that this desolate world is nothing like the one he knew before he fell into a coma. Tasked with retrieving a crucial object for an old friend, Josef must work against time and his own paralysis to find it, all the while struggling to reclaim his old memories.
A post-apocalyptic novel, Immobility is a look into loss of self, disability in an unforgiving world, and piecing together lost identity. Brian Evenson is a champion at crafting bleak and surreal landscapes, and he's crafted an unforgettable one in the land that protagonist Josef must explore. If you're not a fan of optimism or closure, Immobility just might be the book for you.
Paperbacks From Hell: The Twisted History of 70's and 80's Horror Fiction by Grady Hendrix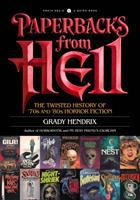 Schlock, schlock, schlock, everybody! While Grady Hendrix is an accomplished fiction writer on his own terms, his exploration into the horror novels and pulps of yesteryear is a delight. Covering the horror boom of the 70's and 80's, Paperbacks is broken down further into genre trends – from the cliché, like haunted dolls and creepy children, to the bizarre, like killer crabs. Each full-color page includes covers and summaries, plus a breakdown on the authors themselves. Hendrix has a clear love for the genre, and every title is discussed and lampooned with equal affection.
The gooey and gruesome stories discussed in Paperbacks might not be everyone's personal cup of tea, but the sociocultural origins of horror are always interesting, and no more so than here. Discussing titles like Crabs: The Human Sacrifice, Squelch, The Face That Must Die, and Bugs, Paperbacks From Hell is a wild and elucidating journey through horror's golden years.
Frankenstein, or The Modern Prometheus by Gris Grimly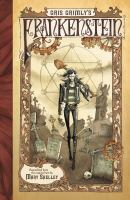 You know the story. You know the semantics around the story. (We know, Frankenstein is the doctor, not the monster.) But if you haven't seen Gris Grimly's illustrated retelling of the Mary Shelley classic, you're in for a treat. Macabre illustrator Grimly breathes new life into the familiar tale, creating a vision that's every bit as unnerving as it is beautiful. From the dour, sunken-cheeked face of Victor Frankenstein himself, to the grim and all-too-human visage of the monster, the characters luxuriate in the sort of gothic splendor that Gris Grimly's artwork is well-known for. It's a beautiful – and very readable – tragedy, perfect for a chilly autumn night.
Cheyanna's Pick
The Thing (DVD)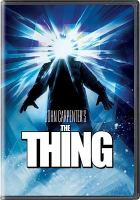 The ultimate in alien terror!
A cult classic originally released in 1982 and directed by John Carpenter. This movie is based on the 1938 novella Who Goes There? by John W. Campbell. This movie follows an American research center deep in the Antarctic that is blighted by a lethal extraterrestrial specimen. Rob Bottin's practical special effects have made this film a staple in the science fiction genre. I highly recommend it for a suspenseful, and sometimes comical, gory horror movie.
Di's Picks
Payback's a Witch by Lana Harper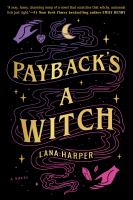 Payback's a Witch is about Emmeline Harlow who has returned to her magic-fueled hometown for the once every fifty-year tournament that decides which of the four founding families will preside over all magical doings in the community for the next half century. In the 300 years since the founding, the Blackmoor family has won all but one tourney. Serving as the arbiter of the tournament, Emmy finds herself in an unexpected relationship.
The Ex Hex by Erin Sterling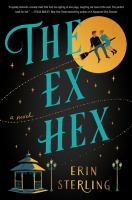 The Ex Hex features a town with a Halloween tourism economy and focuses on reuniting with someone from long ago. College student Vivi falls in love with Rhys, a descendant of Lord Penhallow, who had founded the town at a convergence of Ley lines. When he tells her he has to leave to settle things with his betrothal, she and her friends place a drunken curse on him. Now, almost a decade later he has been sent back from Wales to renew the Ley lines and refresh the magic – but that darn curse complicates things.
Witch Please by Ann Aguire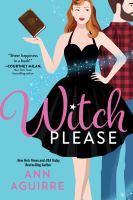 Witch Please by Ann Aguire isn't Halloweenish, but it's about a witch in a small town who repairs small appliances with magic. When the hunky baker in town brings in a repair, she knows she can't fall for him because he is a mundane and the women in her family have been cursed with losing their magic if they marry someone without magic. Delightful fun, and what could be better than a witch's coven that is also a book group?
The Final Girl Support Group by Grady Hendrix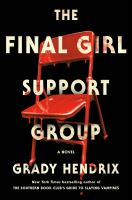 Because I feel like I'm slacking if I don't read from multiple genres, I read The Final Girl Support Group by Grady Hendrix. I felt like I learned a whole lot about the slasher movies of the '80s and '90s; the movies I refused to watch because I didn't want nightmares. It is one of those books that once it hooks you, you can't stop reading to discover who will survive, if there once again be only be a sole survivor, who is really the killer, and why, why, why would they do that.
Mongrels by Stephen Graham Jones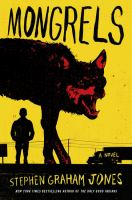 A few years ago I read Mongrels by Stephen Graham Jones, a Colorado author. It is a about a teen in an itinerant werewolf family traveling the back roads of the south. Since I liked it, I picked up an audiobook copy of his most recent title, My Heart is a Chainsaw, having no idea of what it was about. It features a teen protagonist, a Blackfeet girl, who is obsessed with those slasher movies that I now feel a relationship to because of reading the Hendrix book (mentioned above). I am finding it impossible to stop listening to it.
Nate's Pick
Nightmares and Dreamscapes by Stephen King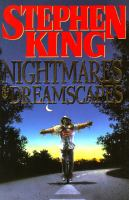 Nightmares and Dreamscapes is one of the best short story collections by Stephen King. When it comes to Stephen King, in my opinion, his full-length novels are either hit or miss; however, his short stories are almost always hits. This short story collection includes some great tales including "Dolans Cadillac" which is about a widowed school teacher who gets revenge in a creative and unique way on the crime-boss who murdered his wife. Another great story is "the End of the Whole Mess", in which an author and his genius younger brother discover a way to bring about world peace…. And then the end of the world. Finally, "Crouch End" is one of many times Stephen King writes his take on H.P. Lovecraft's "Cthulhu Mythos". In this story a young American couple get lost in a London suburb where the fabric of reality starts to shift as they are taken to an alien and demonic world.
These are only a small sample of crazy stories included in this collection. There are other amazing stories including "Suffer the Little Children", The Night Flier", "Sneakers" and more.