Greetings, fellow library-goers! November is starting strong with a few staff recommendations we are excited to share. Click on any of the images below to be directed to the Mesa County Libraries catalog.
Sean E.'s pick:
News of the World (DVD)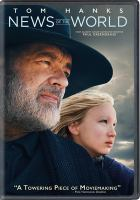 Based on the book of the same name, News of the World follows Captain Kidd (Tom Hanks), a Civil War veteran who stumbles upon a girl, Johanna (Helena Zengel) who doesn't speak any English and was taken by the Kiowa people six years prior. Kidd reluctantly agrees with local law enforcement to take the child to her only living relatives against her will. Throughout the film Kidd and Johanna learn to work together to overcome the many obstacles of the landscape and its inhabitants.
Directed by Paul Greengrass, this film is a bit of a slow-burn. It takes its time introducing the audience to not only the two main characters, but also its post Civil War/western setting. Captain Kidd makes a living going town to town reading aloud newspapers to illiterate townspeople for a fee of ten cents per seat, and those seats do fill up – most of these gatherings are standing-room only. As the film progresses, you discover that Kidd travels so he can avoid confronting his past. He believes that God is punishing him for his actions during the Civil War. By contrast, Johanna's troubled past was brought about by no choice of her own – the murder of her parents and her abduction.
At the surface this film depicts weary travelers making their way to their ultimate destinations. Look deeper, however; News of the World shows how context in one's life can strengthen hope for the future. Just as Kidd shares the stories of the world to his audience, the stories we tell ourselves help us to continue our journey through the tumultuous terrain of life.
Andrea's Pick:
The Great Destroyers by Caroline Tung Richmond.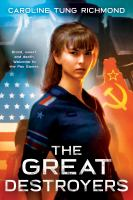 Jo Linden is living in a 1960s where the nuclear bomb was never invented, and mecha bots reign as both entertainment and warfare machines during the Cold War. Jo knows that she can be a world class mecha fighter, if only the United States can get past the fact that she's a girl. When Jo is entered as a last minute competitor to an Olympic style game, she is quickly drawn into an international plot that threatens to turn the Cold War into World War III. A heart poundingly fun time, The Great Destroyers tackles racism, misogyny, and international politics in between epic mecha fights. For anyone who enjoys giant robot fights and/or alternate U.S. histories.
Emily K.'s Pick:
On a Sunbeam by Tillie Walden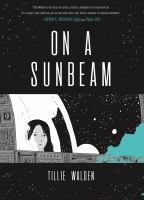 I've been on a graphic novel kick recently, so I've been reading anything I can get my hands on. On a Sunbeam by Tillie Walden blew me out of the water. This book tells the story of a ragtag group of space-faring conservationists, going to abandoned places and salvaging what they can for odd jobs all while the crew tries to outrun their pasts. The crew finds companionship in each other and in the effort to reunite the main character, Alma, with her first love; they also find the strength they need to confront each of their own problems.
It's as heart-wrenching as it is heartwarming. The art in this book is simply stunning and the use of stark lines and strong colors makes it feel like you can step into story's world. Not to mention, the unique space environments and ship designs are enough to make any sci-fi fan swoon. This is one book you can judge by its cover; the melancholic beauty of On a Sunbeam is obvious before you reach the first page but there's far more worth uncovering within. If I could give this book 6 out of 5 stars, I would.
Rose Marie's Pick:
Music of the Spheres by Coldplay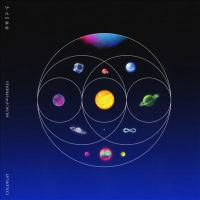 The brand new Coldplay album is out and it's lovely, happy, upbeat and just the right thing to start the holiday season with. With musical transitions, upbeat pop songs, and guest artists featuring Selena Gomez and BTS, the album tells the story of what it's like to be human. Despite how hard each day is, we all deserve love and hope at the end of the day. Music of the Spheres is similar to past Coldplay albums in that it has a theme that carries into their lyrics, song titles, artwork, and music videos. This theme? Space and  the cosmos. My particular favorite? The closing song, "Coloratura". It's ten minutes and eleven seconds long, but goodness it's a ride. If alternative music is your thing, go for it. I hope it makes you smile. Haven't tried Hoopla yet? Now is the time! Download the new album through Hoopla today.