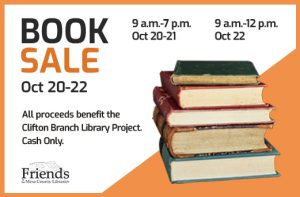 Friends of the Mesa County Libraries will host their big October Book Sale Oct. 20-22 at the First Congregational Church, 1425 N. 5th St. (across from Grand Junction High School).
This sale will feature books, DVDs, CDs, and a special collection of rare and collectible items that you won't want to miss.
Hours are:
9 a.m.-7 p.m. Thursday, Oct. 20
9 a.m.-7 p.m. Friday, Oct. 21
9 a.m.-noon Saturday, Oct. 22 (Bag sale)
All sales are cash only. All proceeds from the sale will benefit the Clifton Branch Library Project.