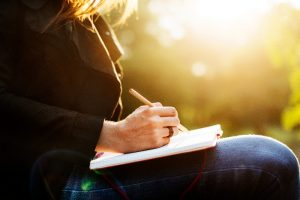 April is National Poetry Month, and being stuck indoors is the perfect time to wax poetic while contemplating your carpet…er…maybe that's just me?
Anywaaaay..in case you hadn't heard, we're currently accepting submissions for our annual Teen/Adult poetry contest. The top three poets in each category (Teen/Adult) will receive a $100 (1st place), $75 (second place) or $50 (third place) gift card to Downtown Grand Junction!  You have until April 24th to enter, so get crackin'.
If you need some writing inspiration, here are some great resources to get those creative juices flowing:
Happy Writing!
photo from raxpixel.com