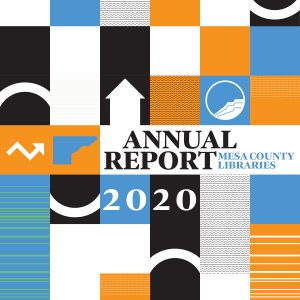 2020 was anything but a typical year, and Mesa County Libraries' newly released 2020 Annual Report shows just how unusual it was for your public library.
For example, electronic circulation (ebooks and eAudibooks) increased by 39%, driven by pandemic-related library building closures. Library visits dropped by 56%, and overall checkouts and renewals fell by about 20%.
But Mesa County Libraries adapted and innovated to meet demands for core services in the new environment. We added curbside holds pick-up (which served more than 14,000 patrons in eight months), moved events such as story times online, and devised new ways to engage our patrons, such as through Take and Make kits.
And all this happened in a year when we also eliminated overdue fines, removing a barrier to library use for many Mesa County residents, and pushed ahead with plans to replace the Clifton Branch with a bigger, better building that will vastly improve library service in that community.
You can read more about how Mesa County Libraries fared in 2020 in our new Annual Report, available for download here.