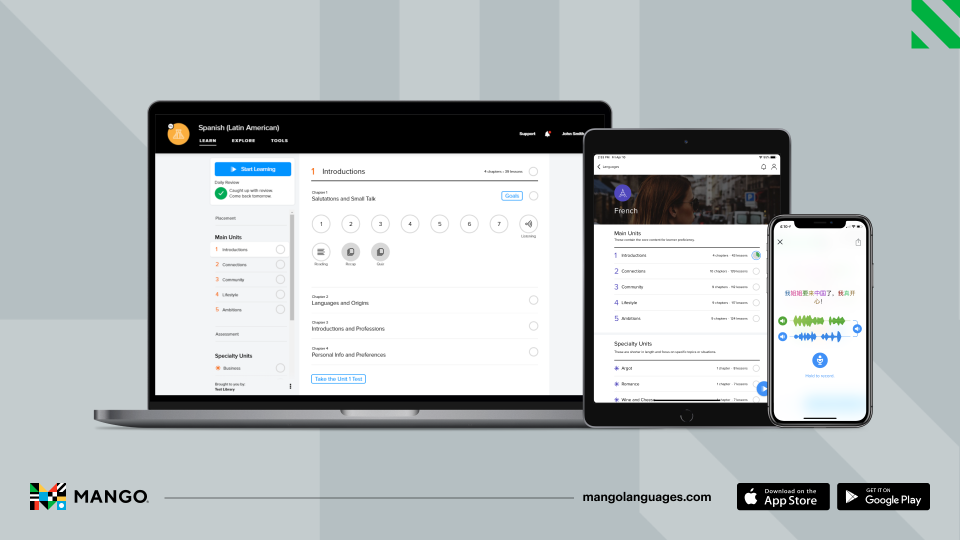 Hola, ciao, and bonjour!
Have you ever wanted to learn a new language? Want a refresher on your high school foreign language classes? Frustrated by the pushiness of the Duolingo owl?
With Mango Languages, learning a new language is a breeze! Mango Languages offers courses on over 70 world languages. Explore popular languages like Spanish, French, English, and Japanese, or challenge yourself with a variety of other languages like Ukrainian, Hawaiian, or Ancient Greek. Fer any inquisitive landlubbers, Mango Languages also has a course on how t' speak like a pirate.
What sets Mango Languages apart from other language-learning apps is its focus on building practical conversation skills (with the exception of pirate speak, perhaps) for general day-to-day communication with fluent speakers. Mango Languages uses a flashcard method of instruction that shows you a word or phrase along with a clip of a fluent speaker saying it. You'll then be asked to recite the word or phrase into your device's microphone to practice your pronunciation. Mango Languages will keep track of your progress and help you review anything you might be struggling with.
Start off the New Year strong by learning a new language! Anyone with a Mesa County Libraries card can access Mango Languages for free by following this link, or by visiting our eResources A-Z page and clicking on the link there. You can also download the Mango Languages app on the Google Play Store or the Apple App Store. You'll need to create a profile to save your progress, but you are also free to try it out first as a guest. If on mobile, you'll need to link your account to Mesa County Libraries after logging in to gain full access. You can find information for setting up your account on our Mango Languages Quick-Start Guide.
Looking for more language learning resources? Check out our collection of Foreign Language and Spanish Language Materials, or contact our Adult Learning Center to sign up for English Second Language (ESL) classes.
Have you used Mango Languages to study anything new? Let us know in the comments!